Omg, haha. How come I forgot to post something on my birthday? Well, yesterday was my sweet sixteen birthday. Ahh, I'm getting older and it's freaking me out. Haha.
Believe it or not, I just found out about Taiyo yesterday, oh how great is that? Uhh. Taiyooooooooooooo T_T
I hope he comes back in the showbiz, maybe as a model. Who knows? ;) I always thought Taiyo will never quit, but HOMG, nooo -_-
I'm glad that Shoon is still there, with Reon. Hey, they can be the next T&T or Kinki Kids though. Duos ;)
Okay, so I got my yearbook a few days ago and haha, I look like a nerd. And of course, I won't post it here. Heeee.
There's this random fangirl from AsianFanatics forum gave me this as a birthday gift. She didn't tell me her name though. She randomly sent me the gift through PM. Whoever you are, I want to say thank you for this lovely gift, and though I don't know you, but you're just too nice <3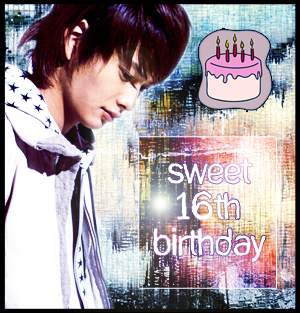 Oh the guy in the banner is Okada Masaki. The guy who played Sekime-kun in Hana Kimi. Oh I loove ♥ him ;) Simple banner but I loveeeeeeeeee ♥ it :)